How it Works
1. Planning
You get in touch and tell me about your text: what it's about, who the intended audience is, how long it is, what you'd like me to focus on, and when you need it back.
If your text isn't yet finished and you're looking ahead we can make a plan for the future, or (subject to my availability) I can get to work immediately if you've just finished writing and need it looking over straight away.
One or more deadlines are set depending on whether you'll send all of your text at once or in chapters or sections, and whether you'd like multiple readings to be done.
2. Sample
I encourage anyone that I haven't worked with before to send a sample of their text, generally a page, that I can work on free of charge and send back to you.
This allows me to see how much work the text will require and provide you with a reasonable estimate of how long it will take; it shows you what kind of value I can add, and helps you to make an informed decision regarding me as a service provider.
3. Service level
If you're happy with your sample edit I get to work on the text, and proofread or copy-edit it, depending on which level of service you prefer.
Proofreading a document means checking spelling, grammar, syntax, typos, and so on – in essence, finding any mistakes in your text. As such it's perfect for those who are very confident in their use of English and simply want the peace of mind that comes from a professional telling them that their text is good to go, and that everything is as they intended it to be. I charge £15 per 1000 words for proofreading.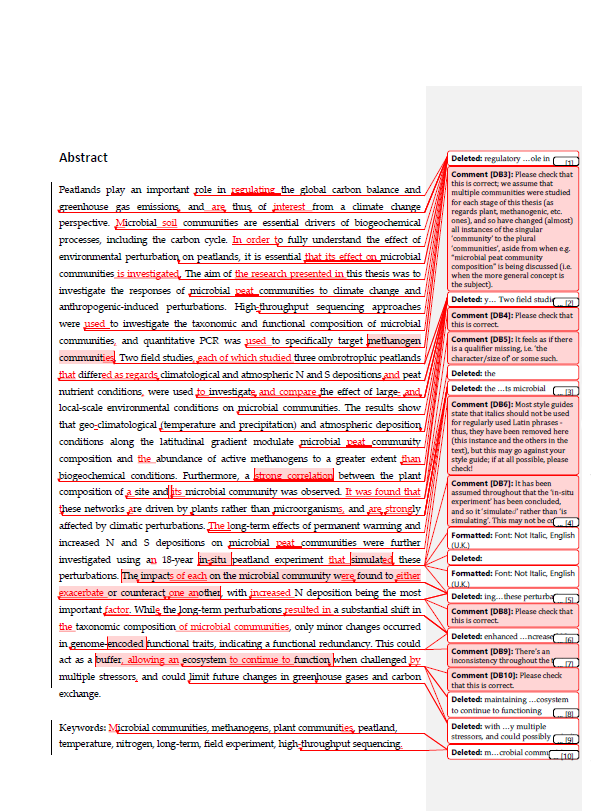 Copy-editing involves checking all of the same aspects as proofreading, as well as providing additional input to help improve the text. This means either providing suggestions or making changes (depending on what you prefer) to sentences, paragraphs, and structures so that the language flows and clear as it possibly can be. Unlike proofreading, then, it isn't just about changing what is actually wrong in terms of the rules of English, and instead focuses on making your text as good as it possibly can be. I charge £25 per 1000 words for copy-editing.
4. Changes
I generally work in Microsoft Word and use the 'Track Changes' function so that you can see how changes have been made, and often attach comments that explain my logic or offer an alternative. I may also ask questions to clarify things, rather than assuming that I know what you mean.
I can also work on PDFs and other document formats if required.
5. Quality assurance
You receive your edited text to look over, and are encouraged to contact me with any questions or concerns. I strongly feel that my job isn't done when I send the text back to you that first time – in fact, it's not done until you're entirely happy, and if that takes multiple readings or a barrage of questions, so be it.